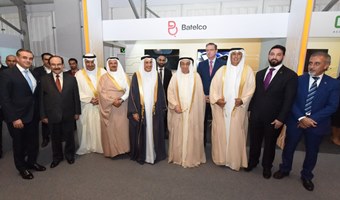 Batelco Gold Sponsor of Amazon Web Services First Middle East Summit in Bahrain
Manama, Bahrain: Batelco, Bahrain's leading digital solutions provider was very pleased to be the gold sponsor for Amazon Web Services' (AWS) first Middle East Summit in Bahrain which took place at the Four Seasons Hotel on September 25th. The major event brought together leaders in the cloud computing community from Bahrain and the region to connect, collaborate and learn.
As part of its participation, Batelco demonstrated its digital solutions including products and services from AWS such as Amazon WorkSpaces, Amazon WorkMail and AWS Direct Connect. Batelco also showcased the migration and integration capabilities, all of which attracted much interest from attendees at the Summit.
Batelco Bahrain CEO Eng. Muna Al Hashemi said that Batelco welcomed the opportunity to support the AWS Summit which provided excellent networking opportunities for businesses and individuals.
"By hosting an AWS Summit event in Bahrain, AWS confirms the importance of the Middle East as a leading hub for innovative technology and its willingness to adapt to the ever changing trends in the ICT and communications industries," she added.
AWS Summits are free, one-day events hosted around the world, targeted to regional technology leaders and consumers looking for solutions on navigating or growing their business on the AWS Cloud. Attendees from the GCC, Jordan and Egypt benefitted from hands-on sessions with the opportunity to network with AWS partners and AWS leadership to learn more about best practices and future plans.
Batelco is recognised as a leading Cloud enabler in Bahrain. As the Kingdom's innovation driver, Batelco was the first in the Kingdom to launch a series of Cloud-based services to empower businesses to digitise their processes and improve their operational efficiencies. Batelco's cloud solutions serve businesses of all sizes across all industries by delivering a range of solutions such as Web Development, E-Commerce, Business Continuity and Productivity Solutions.
Organisations looking to connect to AWS to utilize the flexibility, scalability, and security of the AWS cloud can do so via a direct, private connection on Batelco's fully diversified global network. For more information customers are invited to contact their account managers directly or visit batelco.com