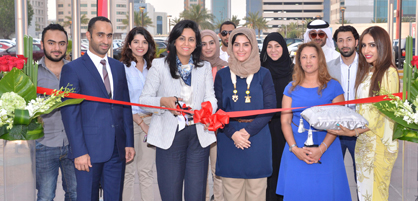 Batelco Hosts Successful Made in Bahrain Weekend
**Event held to support Talented Youth**
Made in Bahrain, organised by Batelco's Youth Marketing Team, has been hailed a huge success with thousands of visitors attending the event which took place last weekend (April 24 to 26) at Al Aali Mall Boulevard (Walking Area Outdoors). The event, which took place for the second successive year was held to support talented youth and benefit the community. The weekend event was officially opened at 5pm on Thursday by Batelco Consumer Division General Manager Muna Al Hashimi and Al A'Ali Complex Manager Shafiqa Faqeer.
This initiative is part of Batelco Youth Marketing Team's efforts in providing opportunities to enhance the skills of Bahrain's young generation. Many young talents signed up to participate and display their unique work in areas such as artwork, handicraft, design, clothing, sweets, food and more. In addition, the event boasted many additional activities for the entertainment of participants and visitors.
As part of the event, participants competed against each other to win great prizes. Batelco awarded the top three stalls with BD100 vouchers, with the winners selected by visitors who voted for their favourites. The winning stalls are Kashma owned by Fajer Al Hashel, Marari by Nada owned by Nada Bubshait and The Celebrity Closet owned by Maha Alqassab.