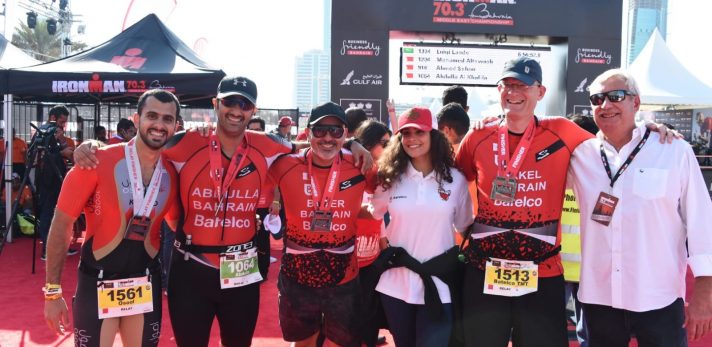 Batelco Team Successfully Completes IRONMAN70.3 Middle East Championship Race
Batelco's team successfully completed the 70.3 Middle East Championship race, with two relay teams and individual participants. Batelco's participation comes as part of its commitment to supporting the sports sector in the Kingdom of Bahrain and its keenness to be a supporting partner in the success of this tournament by being the platinum sponsor and exclusive telecom partner for the championship.
Because Batelco believes in the importance of this event, Batelco Chairman Shaikh Abdullah bin Khalifa Al Khalifa participated in the race along with CEO of the company, Mikkel Vinter, Shaikh Bader bin Rashid Al Khalifa, General Manager of Corporate Communication and CSR, Shaikh Nasser Al Khalifa, Amir Nasralla and Fatima Ghaith.
This tournament is characterized by professional organization which reiterates the Kingdom's ability to host championships at the international level, which in turn reflects the honorable image of the Kingdom.
Batelco is proud to sponsor this annual event which has contributed to the promotion and practice of various sports and encourages the adoption of a healthy and active lifestyle, as well as promoting team spirit and competition among different members.