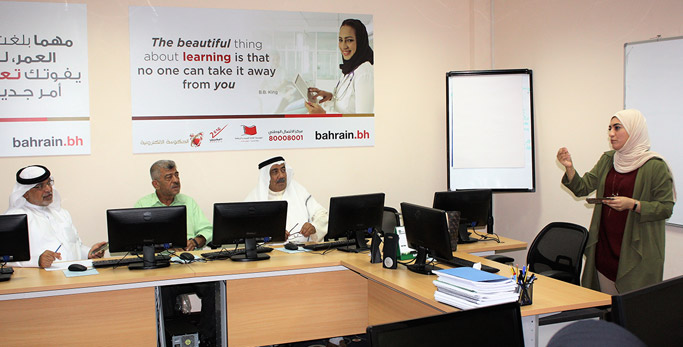 Batelco Holds Digital Literacy Programme as Part of its CSR Initiatives
Batelco, as part of its commitment to its role as a responsible corporate citizen, arranged a Digital Literacy Programme at Al-Hekma Society for the Retired, recently.
The informative and educational session, held in the Society's computer lab, was designed to familiarize those in attendance with a variety of digital technologies and applications which are needed to carry out a number of daily activities. The session aimed at equipping the participants with the knowledge required to adopt a modern way of living.
Batelco Senior Product Marketing Manager, Nasreen Buhammood volunteered to conduct the lecture and instruct attendees on how to best utilize a variety of useful applications to enhance their daily activities.
In the age of digitalization, the service industry has become heavily reliant on applications, with the banking, health and tourism industry all introducing their own unique mobile platforms. As a result, it is has become vital for individuals to have an understanding of technology in order to be able to complete their every tasks.
In line with modern life and the key role played by technology for all ages and all sectors, Batelco has taken this initiative in order to provide the relevant support needed to facilitate the lives of individuals by enabling them to rely on themselves to accomplish daily activities easily and conveniently.
This initiative is in line with Batelco's efforts to empower the society in which it operates, by facilitating the exchange of knowledge through different platforms. Programmes such as this are set to become a regular occurrence, as Batelco plans to collaborate with a number of associations and entities to deliver practical workshops to provide individuals of all segments with the opportunity to become familiar with different technologies allowing them to seamlessly transition into the digital age.
The idea of the Digital Literacy programme was developed by Batelco to meet the growing need for digital awareness in order to complete various transactions. Such programmes form part of Batelco's Corporate Social Responsibility and its commitment to local communities. Batelco continuously strives to be a more socially responsible entity driven by a sincere desire and inherent duty to contribute positively to its surrounding communities.