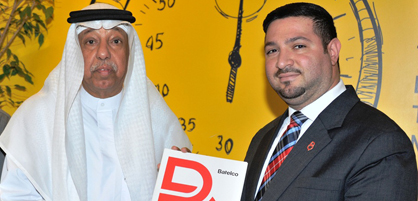 Batelco Challenge with Three Races Promises Great Day of Horseracing
**Prestigious event to take place at Rashid Equestrian & Horse Racing Club in Sakhir**
Batelco, as part of its commitment to sporting events, is sponsoring the 2015 Batelco Challenge, a major day's horseracing, to be held on Friday 27th March at the Rashid Equestrian & Horse Racing Club in Sakhir.
As part of the great day of racing, three trophies will be given by Batelco. The featured races are Batelco Group Cup, Batelco Al Masa Cup and Batelco Al Dana Cup. Batelco has allocated a total of BD5000 for the winners of the races. A number of Batelco's senior management will be there on the day to enjoy what promises to be a fun filled event and to award prizes to the winning owners, trainers and jockeys.
"We are delighted to sponsor the Batelco Challenge and give race goers the opportunity to enjoy an entertaining day at the races," says Batelco Group General Manager Corporate Affairs Ahmed Al Janahi.
"A love of horses and a passion for racing are inextricably linked with The Kingdom of Bahrain and these races, together with the great prize fund, will fuel interest amongst jockeys, owners and spectators, alike."
Racing enthusiasts, families and all those who would like a great day out are welcome to come along to see the on-track action and celebrate the Batelco Challenge winners. Admission is free and the event runs from 3pm to 6pm, Friday 27th March.